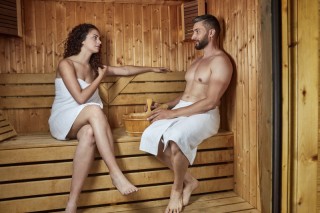 Among the many applications of essential oils and floral waters is also the possibility to use them in the sauna or under the shower.
Shower and bathtub
Essential oils can be used both in the shower and in the bathtub. Their use enhances the detoxifying effect, relieves stress and fatigue, helps with pain and cramps and has a healing effect. Using a few drops of lavender essential oil while taking a shower promotes relaxation after a long day, calms and balances emotions. Yarrow essential oil also has a calming effect and helps improving sleep and reducing stress. St. John's wort and Melissa essential oils are used to deal with anxiety, nervousness and tension. Mint essential oil energizes and brings a feeling of freshness. The healing functions of oregano and helichrysum make the oils suitable for the treatment of rheumatism and arthritis.
When using essential oils in the bath or in the shower, we advise you to be careful and always to follow the recommendations for diluting the essential oils. They should be added to shower gel, foam or shampoo when used in the shower, and when added to a scented bath, we recommend that they be redissolved in the bath foam or added to milk so that the oils do not form a film on the surface.
Sauna
The benefits of the sauna and steam bath are numerous, for maximum effect we advise you to use essential oils. It is important not to drip the oils directly on the hot stones, the correct way is to dilute them and use only the recommended amount. A very good practice is to add the essential oil to crush ice, which you can melt perfectly on the hot stones.
Benefits of using essential oils in sauna:
• Enhance the detoxifying effect of the sauna
• Essential oils have antibacterial and antiviral properties
• Strengthen the immune system and improve the body's defenses
• Relax muscles and tissues, and relieve pain and tension
• Improve blood circulation and help the body function properly
• Stimulate balanced blood pressure and digestion
• Improve the overall condition of the skin
• Help with oily skin and skin prone to imperfections
• Improve tone and overall well-being
• They have a positive effect on the emotional state
• Help reduce stress and anxiety levels
Essential oils are a great addition to the sauna and to enhance its positive effects. The sauna is recommended for both the colder and warmer months, we suggest 2-3 times per week.