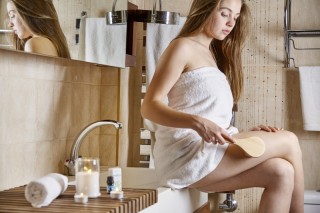 Natural essential oils and floral waters are also used in body skin care - to hydrate, restore elasticity and natural radiance and softness of the skin.
In body skin care, essential oils can be used in several ways:
• Diluted in a base oil;
• Added to a cosmetic product - shower gel, lotion, body cream;
• Aromatic bath;
• Massage.
One of the most preferred base oils is organic cold pressed rosehip oil. It can be used in its pure form on the skin, the combination of vitamins and antioxidants moisturizes, evens out the complexion and makes the skin softer and more elastic.
Essential oil can be added to the base rosehip oil for an even better effect. Some of the most commonly used oils in body care are helichrysum, lavender, basil, yarrow, moldavian dragonhead, clary sage and hyssop.
Natural floral waters are used to hydrate the skin of the body, refresh and leave a light scent. They can be used as an insect bites relief, some of the herbs are natural repellents - soothe itching and help restore the skin. Floral waters also relieve sunburn and help the skin after excessive sun and wind exposure.
Lavender oil and hydrolate soothe sensitive and dry skin and reduce redness and irritation. They help with sunburn and help to restore the skin. Lavender oil is used in the fight against cellulite and stretch marks.
Helichrysum essential oil also soothes sunburn by helping to restore the skin and to stimulate the production of collagen and elastin.
Lemon savory floral water and moldavian dragonhead essential oil also soothe and balance the skin, add freshness and improve the skin`s complexion and radiance.
Lemon balm hydrosol hydrates the skin and balances, while helping to deal with excessive sweating and bad odor. And the essential oil of lemon balm improves the elasticity of the skin and when used regularly the skin becomes more radiant and soft.