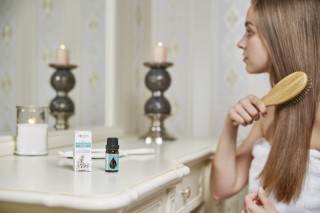 Natural essential oils and floral waters can very well be used in hair care. Their nourishing, hydrating and protective properties help balance the scalp, stimulate growth and strengthen hair lengths.
We recommend to dilute the essential oils in base oils before applying them on the scalp, because when used directly they can cause side effects like irritation or redness. In addition to base oils, essential oils can be diluted in floral waters or some other types of products - shampoo, conditioner, mask or hair serum.
Organic rosehip base oil has an exceptional effect in the care of dry and damaged hair in addition to skin care. Cold pressed rosehip oil nourishes the edges and reduces tearing.
Lavender essential oil and floral water are used to nourish the hair and hydrate the scalp. Lavender balances and soothes, regulates sebum secretion and hydrates the scalp. At the same time it nourishes the lengths of the hair and restores the natural shine and softness.
Lemon savory floral water makes it easier to comb your hair when used as a spray. Rose water restores shine and hydrates the lengths.
Essential oils can stimulate hair growth and reduce hair loss. The most used essential oils in this field are basil, thyme, sage and lavender.
For hair loss, you can add a few drops of thyme or sage essential oil to your shampoo. They stimulate blood circulation and blood flow to the scalp, thus reducing hair loss and accelerating hair growth.