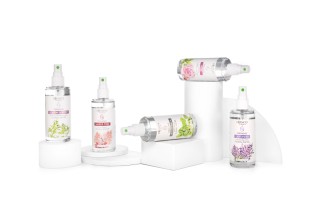 What is a floral water?
Floral waters, also called hydrolates, hydrosols or mists, are a liquid that is released during the production of essential oil by the method of steam distillation. After the process of separating the essential oil, all water-soluble substances remain in the water. The floral water contains all the healing properties and aromas of the distilled plant.
One of the most commonly used floral waters is rose water, followed by lavender water and smoke tree water. Melissa hydrosol is also gaining more and more popularity, as well as the unique aroma of lemon savory floral water.
How to use floral water?
Floral waters are wonderful natural products that can be used in skin care due to their hydrating effect, pure composition and specific healing properties of plants. They can be used on their own, as well as as an additive to natural products or home-made masks and degreasers.
Hydrolates can be used to remove makeup. Another possible application is as a face toner because they maintain a healthy skin balance. Rose water has an anti-aging effect, is moisturizing and nourishing. Lavender floral water is a great choice for problem skin prone to acne, oiliness and inflammation. Smoke tree water also helps with skin imperfections. Lemon savory floral water is suitable for dry skin, and Melissa water is perfect for sensitive and irritated skin.
Floral waters can be used as face sprays. They have a hydrating effect - nourish the skin in depth and restore softness, shine and elasticity. In addition, they can replace fixing makeup sprays as a natural alternative.
Hydrolates are also used in hair care - by spraying along the length of the hair. The rose floral water gives shine to the hair and leaves a gentle aroma. Lavender water soothes the scalp and balances it. For easier combing, a great choice is the floral water from lemon savory. Smoke tree water revitalizes the scalp.
Floral waters can also be used by men to soothe irritated skin after shaving or other cosmetic procedures. They stimulate the healing process and can restore the skin, while minimizing irritation, hydrating and restoring the natural balance of the skin.
In body skin care, mists hydrate, balance and leave a light gentle scent. Floral waters are a natural alternative to perfumes, their pure composition and delicate scent revitalize the senses and lift the mood. In addition, hydrolates soothe irritations, insect bites and sunburn.
The applications of floral waters are diverse - they can also be used in hygiene and care of the oral cavity - as mouthwash.
In addition, they can be used in the home or office as fragrances for rooms, clothes, cabinets, etc. They are also an ideal additive for a diffuser - for a lighter and refreshing aroma indoors.