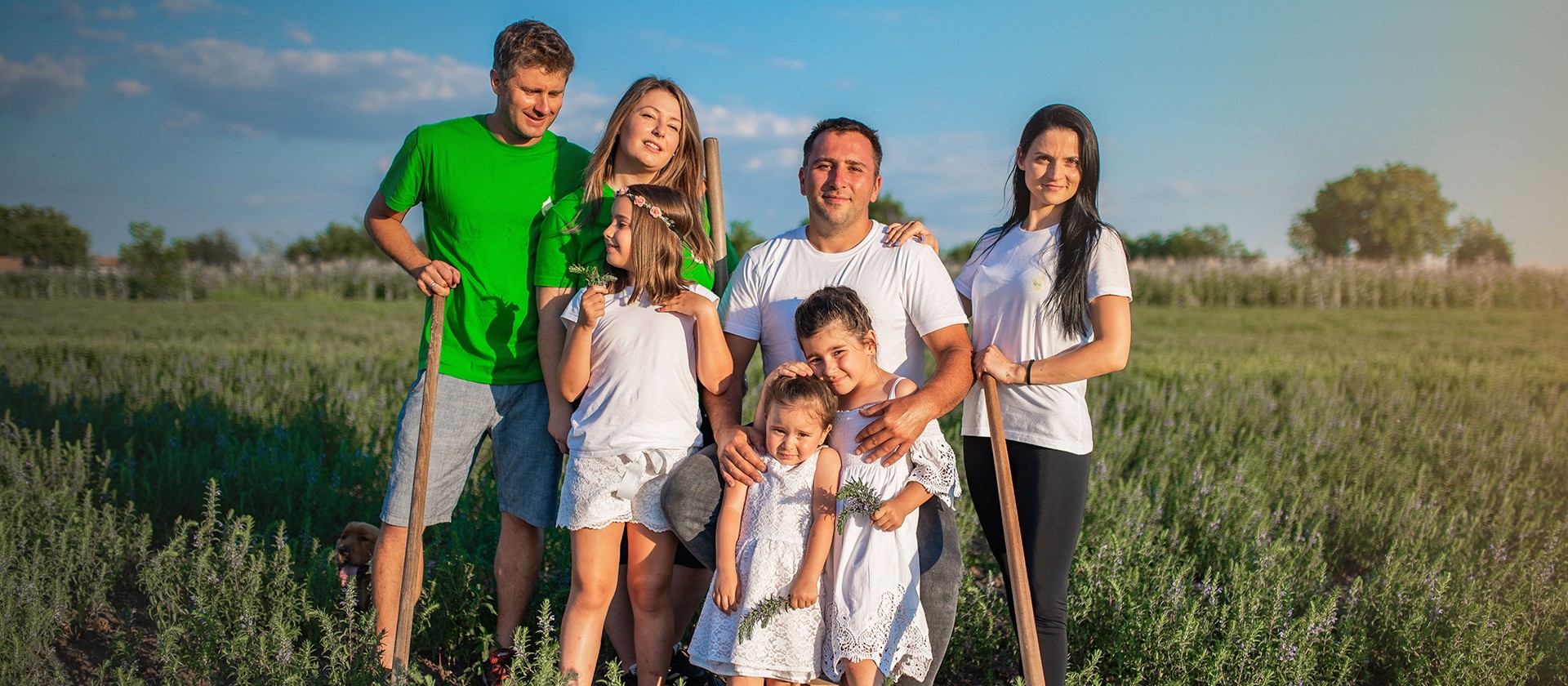 Who are "Essences Bulgaria"?
We are a Bulgarian-German family and dedicate ourselves to our organic farming business in order to produce essential oils, floral waters, cold pressed oils and honey of excellent quality. We produce only 100% pure natural products that originate in our fully organic agriculture. "We love what we do" is our credo, and we believe you can sense it in every "Essences Bulgaria" product with its unique fragrances and taste.
Our farm is placed right in the fertile Danube valley in direct surrounding of the spectacular nature and Biosphere Reserves Rusenski Lom and Srebarna, which are UNESCO World Heritage sites. The soils here belong to the richest soils all over Europe. This reflects in the character of our wonderful herbs and thus in the very special consistency of the final distillates.
In a world of constant changes taking care of nature and working sustainably is most important to endure the beauty and fertility of nature that surrounds us and to keep it accessible for next generations. We most carefully select the most suitable seeds for our soils and climate conditions.
All of our essential oils and floral waters are 100% pure and natural. Our products contain only oils from the described plant and no synthetic substances or mixtures of other oils.
All of the hard work from harvest until bottling is mostly manual work to achieve quality on the highest level. With a careful manner of dealing with our herbs throughout the distillation process we make sure we sustain the biggest part of the individual plants energy in order to maintain the full range of healing properties. The precious essences with nature's full force have been distilled by using the traditional process of steam-distillation.
We aim to capture the plant's soul with all of our knowledge and wisdom. As a result we reach quality excellence, perfectly suitable for medication and wellness products as well as components for aroma, cosmetics and perfume industries. These essential oils are natural talents with potential to heal and are open to a large variety of possible uses.
Our clients are therapists, re-sellers as well as end consumers which we can supply through effective storage and transport mechanisms, to make sure your "Essences Bulgaria" product is being delivered quickly and reliably in any part of the world.
We are very happy to consult you personally, by phone or by e-mail, and we look forward to hearing from you soon!
Why choose "Essences Bulgaria"? Because we do everything ourselves!
When it comes to the question from whom to choose your essential oils, the answer is simple: "Essences Bulgaria"!
We have the entire production chain in our hands and so we are able to check on the quality at any time starting from the seed before germination until the oil is finally dripping into the bottles.
In our geographic position it is not possible to grow a wide range of plants, hence we focus on limited varieties of herbs. So we gain the possibility to care about each plant as much as possible and to harvest at the right time to finally provide you with the best possible result. Thank you for your trust and we promise you will be rewarded with the best quality available!