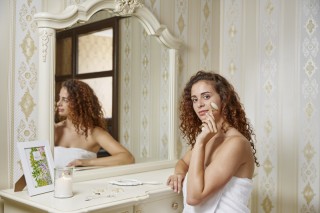 Organic essential oils and floral waters are highly beneficial natural ingredients in cosmetics. Apart from being used as ingredients in many beauty products, they can also be used alone or in combination with other natural oils.
Essential oils improve the overall condition of the skin, used properly according to skin type and diluted in base oil. It is important to note that essential oils have a very high concentration and therefore it is necessary to always dilute them in base oils to be safe for application to the skin. We recommend that you strictly follow the prescriptions and dilution ratio of each oil to avoid side effects and irritations.
One of the most commonly used base oil is rosehip oil. It is suitable for all skin types - dry, sensitive and combination. It has a regenerating, smoothing and moisturizing effect, it is rich in nutrients and vitamins, thanks to which it slows down the aging process and the appearance of fine lines. In addition, it regulates the natural balance and minimizes imperfections.
Even Cleopatra trusted the powerful action of natural oils and legends about her beauty are still carried today. One of the most commonly used essential oils in skin care is lavender. Pure natural lavender oil has antibacterial properties, in addition it balances and hydrates the skin.
Lavender also improves the condition of sensitive skin due to its soothing properties. Floral water and lavender essential oil are suitable for combination skin to oily skin, prone to imperfections. They are extremely helpful in treating acne and other skin problems by balancing the amount of sebum secreted. For problem skin and acne, smoke tree essential oil and hydrolate are also great choices - they normalize, restore and disinfect.
Helichrysum essential oil is also increasingly used in facial skin care, it is known for its action against acne, rosacea, psoriasis. It helps to heal tissues and speed up wound healing. In addition, helichrysum has anti-aging properties - it makes the skin softer, improves its elasticity and gives it a healthier and more radiant look.
In addition to helichrysum the floral water of Rosa damascena can be used for mature skin. It is very rich in valuable skin antioxidants and vitamins. Thanks to them, rose water nourishes, tightens and hydrates the skin.
The floral water of lemon savory is successfully used for dry skin. It balances and soothes sensitive skin, helps with irritation and inflammation.
Melissa hydrolate removes puffy eyelids, dark circles and bags under the eyes, tones and refreshes the skin and improves its condition. Melissa essential oil improves the elasticity and softness of the skin, preserves the natural water-oil balance needed for its healthy glow.